Fishing Reports – Steelhead Fishing Season Has Begun
I haven't made it out to fish yet but last weekend I did make it out to walnut to look around and check things out.  There were people fishing off the wall.  I saw one steelhead caught while I was there.  I talked to a couple people that said they were hitting pretty good that morning.  I did see several strings hanging off the wall with some nice fish attached to them.  The season has begun and it seems like more fish are coming into the streams with every rain we get.
While checking out some of the steelhead site that have fishing reports I saw this on the East End Angler website…you should check out the reports on there if you are interested in any of the mile stream updates.
The website is East End Angler or just click on the picture below: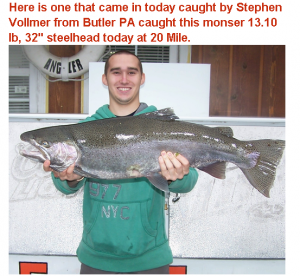 Wow!  Does that make you want to get out there and fish!!  I can't wait!
The new trout run bait and tackle store has a website which also posts updates and pictures, click on the picture below or just go to their website Trout Run Bait and Tackle:
I am hoping to get out soon and start fishing, as always I will keep you updated about how I do and what seemed to be working.
Steelhead season has started for 2012 – Fish On
Michelle
Follow Me On: